" Pure-white, stone-cold fiber optic lighting sytems "
Sure, others can light small cases, using lots of fiber.
But can they do this?
NoUVIR fiber optic lighting can exhibit it all.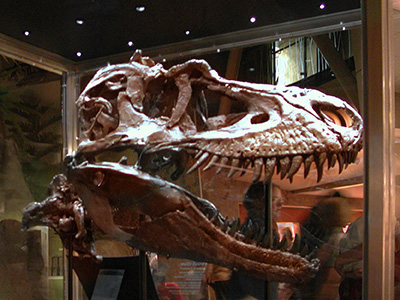 This large Tyrannosaurus Rex's scull is in a floor to ceiling case. It would be near impossible to brightly light with anything other than NoUVIR. The case uses only 18 of the 32 fibers available from the one projector powered by one light bulb.

Since a fiber can be a few feet or 15 feet or 40 feet or even longer, maintenance is NEVER inside this case. The lamp is changed where there is easy access to the projector, not over the object.

This object, even though it is dark, shows jaw-dropping detail.

Visitors stand at head level to see all the terrible teeth of the "tyrant lizard king".

And because it is in a case, lit from inside so it does not mirror the gallery, visitors get real close and personal. They understand the size of this monster.

But did you notice?
There is no glare!
It is hard to see the lights. The fiber optic luminaires on the ceiling of the case are dim. These lights disappear and do not distract. All the focus is on the main attraction. This would not be true with LEDs or halogen lights as they would be bright sources stealing attention from the fossil.

Instead, THIS dinosaur GRABS attention.

But it is not just about presentation. Fossil may be durable, because they are basically rock. But in busy museums, they get sticky and dirty. The fiber optic lighting helps keep the inside of the case clean. The skull stays cool. The object stays pristine.

Fiber optic's beam control and lack of glare makes presentation a "wow" factor. Just like you present food on a plate, NoUVIR lets you present objects using light in a case. It makes what you "present" obviously valuable and interesting.

Others don't have the product that gives the performance to make things amazing. Just screw down the projector. Run fiber. And install the lights. These aimable pinspots were mounted through a hole drilled in the case's top. They automatically sealed. Easy. Dramatic. Adjustable. Fun.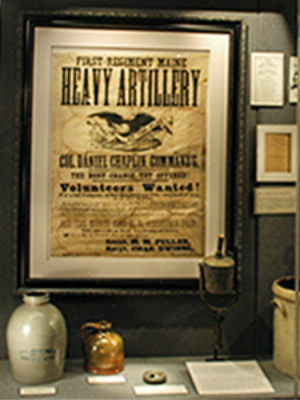 Create mouthwatering presentation just like a five-star chef serves fine dining on a plate.

But do it all with absolutely with no UV and no IR.

This is unique lighting in that it is fiber optics. It is singular fiber optic lighting, because it is NoUVIR.

NoUVIR manufactures to exacting specifications and drawings, all parts inspected, carefully assembled in a clean factory setting and tested eight times before shipping to assure perfection.

As a manufacturer, NoUVIR is the only source for:
the world's only Cold-nose™ technology fiber optic projector. The fiber is used in focus, bright light, but cold, so acrylic fiber will not melt.
the world's best fiber, aerospace-grade, 100% acrylic, run on the cleanest machine in the best conditions at a slow rate…so it is crystal clear to transmit visible light with only 0.7% loss per foot.
the world's only fiber optic reflector, it actually is so high-tech it has two surfaces.
the world's only micro-macro lens, again, unique to fiber optics or any other type of lighting. But creates super smooth, soft edged with a sharp cut-off, no halo, exquisite beams,
the world's most amazing zoom beams with floods from 72° to 36°, spots from 50° to 15° and pinspots from 50° clear down to 5°.
the world's tiniest, genuine lights. Most are the size of a flash drive or a finger.
the world's best AZ-EL mirror, first-surface, quartz-overlaid, oval shaped. Aim, swivel, rotate a beam. all without moving a fiber. Have easy control over azimuth and elevation.
the world's only fiber optic collet that firmly holds a fiber. No glue. No tools. Change a fiber any time. Swap luminaires a decade later.
the world's only "headless" track. All the lights are inside the track. NoUVIR's tracks look like other people's tracks without their light fixtures. Clean. Elegant. Surprisingly easy to use.
the world's only tracks and banisters that miter like wood moldings. No elbows, T's or connections.
the world's only lighting bannisters that are stone-cold to the touch. Durable. No electricity. No heat from the lights.
Don't you deserve not just good lighting, but awesomely great fiber optic lighting?

Any doubts about capabilities other fiber optic lighting companies can't deliver? Here is a primeval forest lit with NoUVIR. The museum uses light with no UV and no IR to preserve its investment in an expensive diorama. Accurate, realistic, extinct foliage is expensive.