" Pure-white, stone-cold fiber optic lighting sytems "
Be Creative with Fiber Optic Light
Creative, but impossible with other types of lighting. See how artifacts ON THE FLOOR of this case are lit from the ceiling of the case. Everything can be seen.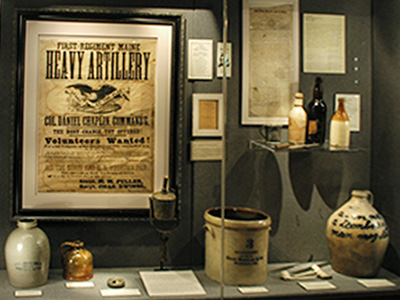 See how the case's lighting is BALANCED. Objects at the top are not brighter. Objects at the bottom of the case are not dim or shadowed. This reach with lighting is not possible except with NoUVIR fiber optic lighting.

Why is this case creative? With NoUVIR museums can RADICALLY MIX types of artifacts.

Rare documents require far lower footcandle levels, especially compared to stoneware jugs and glass bottles. On top of that, some of these papers are fragile, which lowers the recommended footcandle levels even further. But they are together here lit at different light levels without spill. And everything can be see. Everything.

NoUVIR rewrites the rules by mixing fragile with durable. The fiber optic lighting lets you adjust beam sizes. It lets you pick light levels.

Notice how the most fragile and aged papers are lit at lower light levels than the poster. Yet every one of the papers can be read. Also note how the jars practically glow as their glazes reflect light.

This is a traditional museum case. But the lighting makes it amazingly different. Case lighting now has ALL the protections and preservation safe guards needed. It is ideal for museums. It is also perfect for the private collector that is putting together the museum collection of tomorrow. But wants to enjoy it with exquisite display. Best of all, related artifacts of different materials with different footcandle requirements are in the same case telling a better story.
Look at What You Can Do
Lighting hardware in the top makes a diadem case. The lights aim as downlights (eyeballs too) from the case's ceiling or angle from the top front edge of the case's ceiling. Most cases designed with a lighting attic are diadem. But NoUVIR's lights are so small, many diadem cases are retrofitted into proscenium arch cases.

Proscenium arch cases have lighting like a stage. Lights are at the top of the case and down both sides of the mullion. With conventional lighting, big cases lit by proscenium arch design are dim in the middle where the light beams cannot reach. NoUVIR changes all of that. The beams zoom and easily reach the center. The top and sides are not too bright.

Lighting a gallery or a room with fiber optic lighting is difficult for competitors. They often add LED lights to their product lines, because their fiber optic products cannot reach a floor. But LEDs sort of defeats the purpose of fiber optic lighting as LEDs have IR and are automatically without a clean beam.

Tall ladders and lifts are to be avoided. Therefore, lighting in cases or from bannisters is safer for staff. However, using NoUVIR on a ceiling is an option. With other fiber optic lighting, it isn't.

Retrofitting? NoUVIR is ideal for lighting cases that never had lighting. Or replacing lighting. Cases have been retrofitted that are over 100-years-old. Furniture purchased last week have been retrofitted. From large diorama cases to small portable cases, retrofitting can make things look new.


"'What have you done?' This was opening night. The gala. Where we got great acclaim. 'There was no budget for new cases. I told you you couldn't have the money. I told you!' I explained every case was…out of the basement storage. These were the cases that had been down there forever, because they were too scratched to use. 'See. It's the lights, not the case'…I flipped a piece of cloth back to show her the fiber and lights on top of the case held by art board, then covered it back up so no one would see how crude my install really was. I told my director it was like dirt on her computer screen. When you turned the NoUVIR on, you don't see the scratches. The lights aimed through the case's top putting the beams inside…My director …ran her hand over the case front and felt the scratches. Then she scanned the room and the crowd. The cases looked great. The photos (rare circa 1800) looked great. And she smiled. From my director, that's saying something." - curator


NoUVIR has lit a number of impressive treasures.
Check out some amazing artifacts
showing the difference in presentation. But note we try to protect the owner's identity. Photo credits are in the legal section.
Since the light has no UV and no IR, non-traditional things can be done. People have used lots of creativity. Look at
unique projects.
Cases have been placed in floors.
Cases have been suspended and hung from ceilings.
Cases have been built to
RECOVER UNUSED
spaces under stairs or inside wall studs in hallways.
Fake caves and mining tunnels have become museum galleries showing expensive gemstones.
Walls have been turned into displays with mini-shoe box cases hidden between studs or the wall reinforced to make a thin, tall and long case as the wall itself.
Cases have been added in museum platforms under open dioramas.
Basements that are just tall enough to walk in have become complete galleries with NoUVIR.
NoUVIR can install into furniture. Carefully-chosen china and book cabinets have been bought and converted into practical displays. Museum craftsmen have made china-like cabinets. They have turned out to be very popular with the public. Tables have had legs enclosed to make lit cases under the tables for more exhibit space for artifacts. Old fireplaces, unused large wall vents, corners where cases meet, unused doors, closets, sealed off windows and the wasted space under stairs can all be eligible.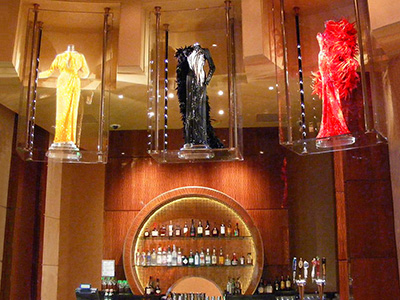 Little cases have been lit with
a single fiber
displaying tea cups and baseballs and letters with stamps and beautiful necklaces and pioneer tools and Chinese snuff bottles and horseshoes and royal Biblical seals and dried, rare wildflowers and pre-Columbian figures and 1790 samplers and rare coins and military medals and small watercolors and historic Bibles and more. One hospital used "cubby holes" for donors to place in a small personal item. Another museum exhibits artifacts that are baffling asking the public what they are. Usually they are new acquisitions.
Medium-sized cases lit
by 8 or more fibers
have shown famous-player, football uniforms and ground-breaking, first production games (including Monopoly) and prehistoric human skeletons (think Lucy) and rare priest robes and Holocaust survivor clothing and bed-sized, handmade quilts and sacred Jewish books and massive golf trophies and taxidermic mammals from the area and James Bond tuxes and submerged shipwreck treasures and rare Colonial furniture and unique books and 1880's cowboy saddles and more.
Large cases using
32 fibers or more
have been made to show off spacecraft and gun collections and historic, life-changing medical equipment and the revolution of video games and Native American baskets and Roman military artifacts and Chinese tomb objects and Carnegie Hall treasures and WWII bomber jackets and automobile hood ornaments and rare toys and Western American trail-life objects and Aztec gold and musical instruments and a famous princess' gowns.
(Plus Oscar Award dresses, historic First Lady gowns, famous singer dresses used on stage, famous dance outfits, elaborate opera costumes. 007 tuxes, superhero costumes, countless uniforms…NoUVIR is excellent for displaying textiles.)
You Will Amaze People with Fiber Optics
Visitors have been able to look into ship holds, animal dens, live-shark infested waters, POW escape tunnels, NASCAR® and MIG jet cockpits, world-changing computer guts, WWII French Resistance hideaways, a VW famous hippie artist's bus, a famous 147-year-old liver in a lidded jar…even through knotholes in wood siding to see surprising things.

Light with no UV, no IR and no electricity, with ultimate control and adjustability, that can be changed on the fly, means design freedom.
Diadem Cases
Proscenium Cases
Galleries & Rooms
Retrofitting (Also Pre-Made Furniture)
Amazing Artifacts
Unique Projects